Agnieszka Pajączkowska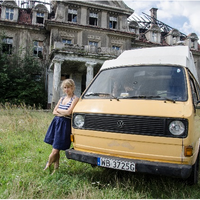 Agnieszka Pajączkowska – expert in cultural studies, researcher of everyday photography practice stories, creator of interdisciplinary, photography, and cultural projects; cultural animator, curator, tutor, reporter, PhD graduate of University of Warsaw's Institute of Polish Culture, author of scientific texts and reports. In her actions she combines academic reflection with creative practice and cultural animation. She is interested in artisanal, private and practical history of photography and its links with everyday practices, archives and local history of Poland. In 2015, she received a scholarship from The Ministry of Culture and National Heritage for "Visual Arts". She is a member of the program board of the photographic TIFF Festival 2017. She works as a curator with photographic archives, both public and private. She prepared an exposition entitled Album rodzinny. Spojrzenia. (Family Album. Multiple Gazes.) in Warsaw's History Meeting House. The exhibition is based on a selection of about 40,000 private pictures, collected in the Spoken History Archive. In cooperation with TIFF Festival, she prepared the exhibition Przywiezione (Brought), presented in Galeria Dizajn in Wrocław (the exhibition consists of archive pictures by Witold Romer and private pictures added to the exhibition by Wrocław's citizens). At present, she is working on an exhibition called Widok ogólny. Sposoby patrzenia na fotografię Gdyni (General View. Ways of looking at photographs of Gdynia), which will be presented in the Museum of the City of Gdynia in 2018.

He has co-authored projects on local history, visual education and archival photography, including: Tożsamości odzyskane. Interwencje, Migawki (Identities recovered. Interventions, Snapshots) and Seminarium Wizualne (Visual Seminar) in Association of Creative Initiatives "ę", Wizualny Eksperyment Muzealny (Visual Museum Experiment) in Stowarzyszenie Katedra Kultury, Coś, co zostanie. Lokalne działania (Something that will remain. Local activities) with Zofia Rydet Sociological Record (Zofia Rydet Foundation). She is a member of Flying Cultural Animators in the Association of Creative Initiatives "ę", and contributes to the Terrain Collective (Kolektyw Terenowy), with which she develops the concept of combining ethnography, animation and art.

Since 2012, she runs the Wandering Photo Shop (Wędrowny Zakład Fotograficzny: www.wedrownyzakladfotograficzny.pl).

As an author of activities and animator, she has cooperated with the Museum of Modern Art in Warsaw, Krakow Photomonth, Archeology of Photography Foundation and the Zofia Rydet Foundation.
As an author of scientific and publicist texts, she published in "Konteksty", "Zagłada Żydów", "Kultura i Historia", "Widok", "mała kultura współczesna", "Res Publica", "Dwutygodnik", "Krytyka Polityczna" and "Wysokie Obcasy".