Fabrizio Troccoli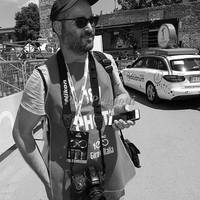 Fabrizio Troccoli is a freelance photo-journalist. He lives in Perugia (Italy) where he works for a regional online newspaper Umbria24.it of which he is also co-founder. He works at national and European level both as a freelance and as a collaborator of the Canadian national newspaper "The Globe and Mail".
Over the years his works were published in relevant national and international newspapers thanks to his collaboration with various photojournalistic agencies such as the Americans Splashnews/Corbis, Photomasi, new Press, La
press. After graduating at the Academy of Fine Arts of Perugia, he channeled his passion for the photography, that he studied at the academy, in the field of journalism thanks to collaborations with various editorial projects. News is his main interest.
Among his reportages, (visible here) there is the story of the earthquakes in central Italy and that of Aquila, the tragedy of the Concordia ship on the Giglio island, the murder of Meredith Kercher, etc. Fabrizio Troccoli looks always for stories where there seems to be nothing noteworthy, in the lives of ordinary people. Telling them is his passion, transforming them into images is his mission.