Ivan Maričić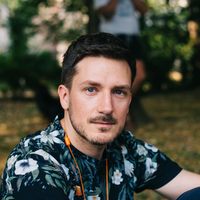 Ivan Maričić (Zagreb, 1986). I like to say that I am a social worker by day, and a photographer by night. I grew up in Moslavina, where I finished elementary and high school. After enrolling in the Faculty of Social Work, I moved to Zagreb where I still live and work. In addition to social work, I am also a freelance photographer and my ultimate goal is to focus on photography in the future.


I have been interested in photography since I was little, but I did not know how to best articulate and sharpen my interests in the small town I was from. I decided to take the camera in my hand two years ago, after a visit to the UK. My photographic journey began by taking photos while going out, and hanging out with my friends, but this documenting of personal moments spontaneously spread to numerous protests and other activist activities related to human rights. My participation in these protests and activist actions was prompted by the completion of studies at the Center for Peace as well as the Center for Women's Studies in Zagreb, which strengthened my interest in social change.


Although I have only been photographing for two years, so far I have participated in two joint exhibitions.