Jérôme Brézillon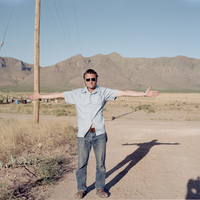 Jérôme Brézillon started out as an advertising photographer, before moving into photo journalism. From 1992 to 1998, he covered several conflicts, notably in Sarajevo, Cyprus and
Northern Ireland. In 1996, he won the World Press Photo award. In 2000, he worked with Finnish director Sólveig Anspach on Made in USA, a documentary in Oklahoma Penitentiary about
the death penalty in the United States. He then did a number of photo reports in the US, including on Bruce Springsteen and the Lakota Native American tribe in the Pine Ridge reserve.
In 2007, Jérôme Brézillon covered the 60th Cannes Film Festival for Libération newspaper, taking many portraits of celebrities.
In 2010, he was the set photographer for Gainsbourg, vie héroïque, a film directed by Joann Sfar. During his career, Jérôme Brézillon has worked for many French magazines and newspapers, including Libération, Les Inrocks, L'Express, Télérama and GEO.