Danijel Modrej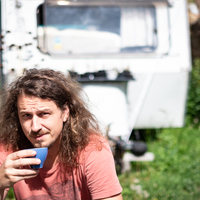 Danijel Modrej (Ljubljana, 1983) works as a freelance scenographer and designer based in Ljubljana, Slovenia.
After graduating from the Faculty of Architecture, he began working in the field of theater and film. He has collaborated with many renowned directors of his generation and has been awarded several times for his work. He also feels at ease in the field of graphic design and illustration.
His works have been part of several joint exhibitions at home as well as abroad. In recent years, he has shifted from institutional theater to street theater, where he was primarily interested in contact with people. With the theater group, he has toured at many acclaimed festivals across Europe.
He also started working with the non-profit organization Humanitas. Their collaboration is part of a long-running project "Through the Refugee's Eyes" that is still ongoing.